Chicken nuggets with rosemary and lemon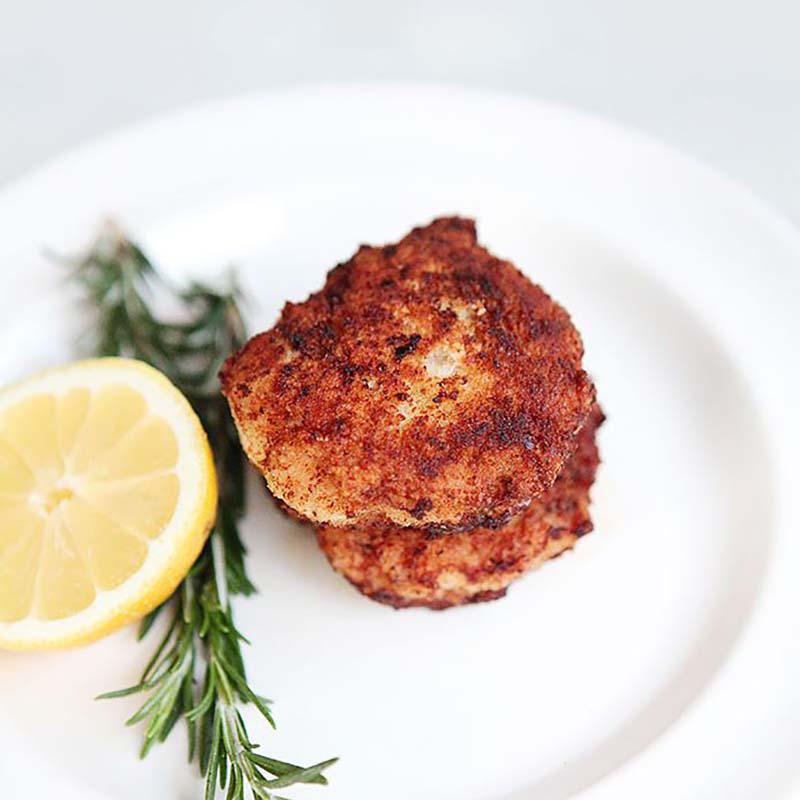 Some time ago I got a call from someone asking how would you create a crispy fried breading on a grain free diet. What would you use instead of bread crumbs.
My first thought was: almond flour.
My second thought: what can I make to try that out.
Third thought: Chicken nuggets!
As you may know I am a big fan of making big batches and then freeze for later to save time so I made this batch, taste tested it: YUM!, froze the rest, thawed up a couple the next week and re-fried them and guess what: still amazing and crispy.
Here is how I made them.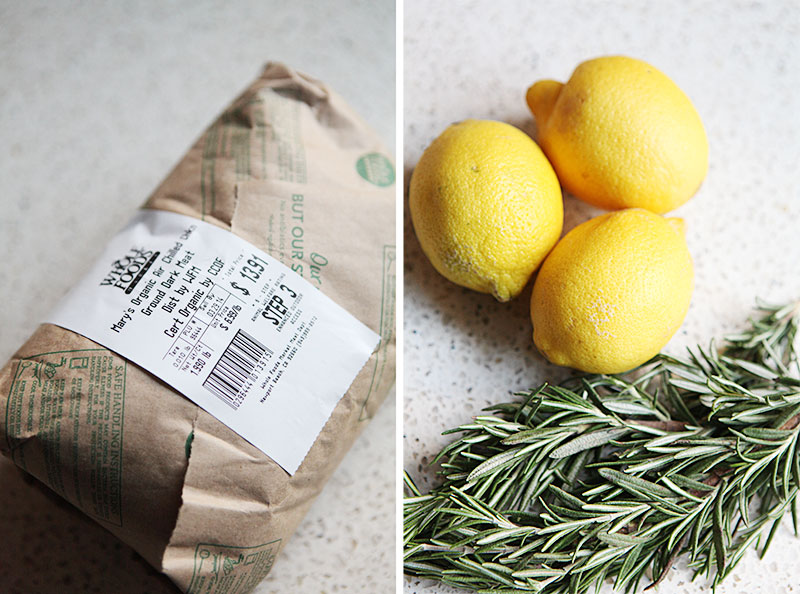 I very rarely eat chicken, but when I do it has to be the best I can get my hands on, so I went to Whole Foods and got some of Mary's Organic ground chicken. 2 pounds. I also got some rosemary and some organic lemons.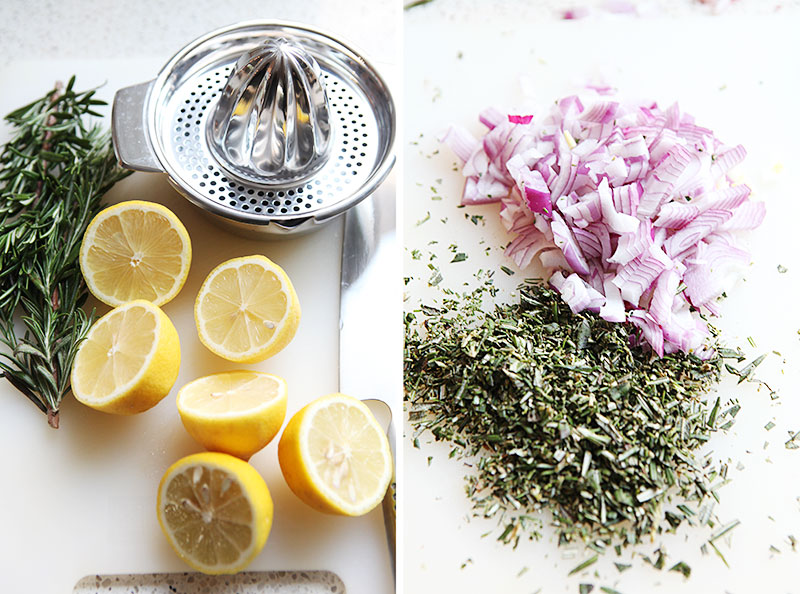 I juiced three lemons and chopped up a small bunch of rosemary and a medium sized onion - this is how I chop onions by the way.
Mix meat, onion, lemon juice and chopped rosemary. Add salt and pepper. For a batch this size I added about 1 1/2 tsp salt and 3/4 tsp pepper.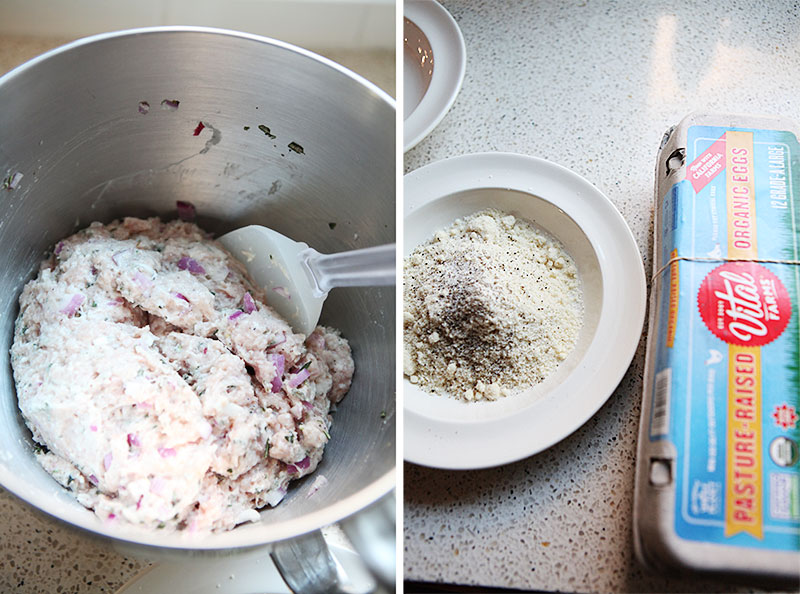 Also, make a plate with almond flour and salt and pepper and a plate of about 3-4 eggs. Start with 2 and see how far it takes you. My new favorite is to use organic pastured eggs. From chickens who walked on grass and picked worms out of the ground. Like they are supposed to.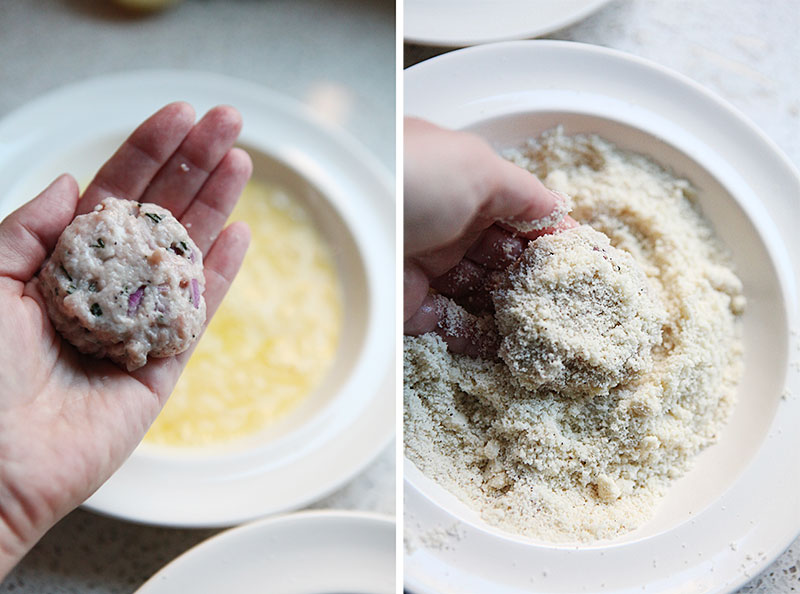 Make a medium patty like this and dip in egg on both sides, then dip into the almond meal mixture, also on both sides. This part gets a little messy, but keep your eyes on the prize.
When I made this the next times, I wanted to save on the almond flour, so instead of dipping them in almond flour, I just sprinkled it over top of the patties after I dunked them in egg. Then, while they were frying on the breaded side, I sprinkled almond flour on the other side. Saved a lot of almond flour and they were still fabulous.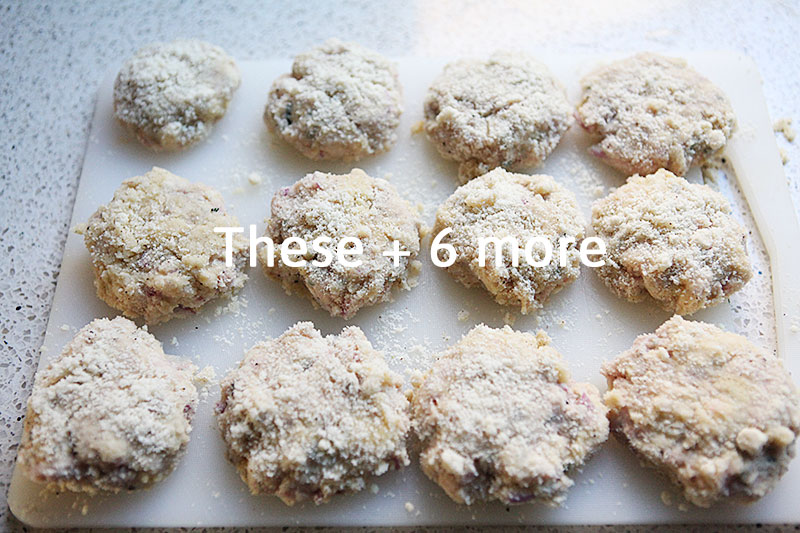 My batch yielded 18 patties.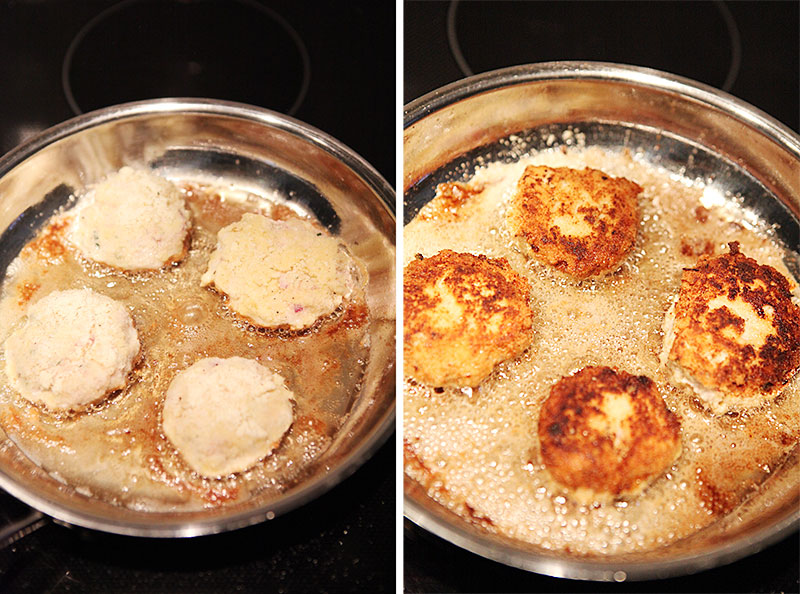 Next, I preheated a skillet on medium - high heat and added about a quarter inch of butter to the pan (Avocado or coconut oil will also work). I pressed them a little flatter and fried them about 5-6 minutes on both sides. Depending on the thickness your cook time will vary.
It's important not to crowd the pan, so even if I had room for 7 patties, I only fried up 4 at a time for maximum crisp. That's what you want.
For the ones that I planned on freezing, I only fried them a couple minutes on each side to lock in the almond flour. That way they don't get over cooked when you thaw them and re-fry them later.
Certain people started congregating at the kitchen bar when the lovely smell of rosemary and lemon spread throughout the house. The nuggets got approval on all fronts.

These nuggets are incredible fragrant and delicious due to the lemon and rosemary. They smell absolutely wonderful when you cook them and the almond crust gives them a nice crispy bite.
These have become a staple at our house. I guess we have some catching up to do on the nuggets front. And without any mystery meat in them, I can totally go for that.
Some blog posts contain affiliate links to products I use.
More information
This article: Chicken nuggets with rosemary and lemon first appeared on http://ahomeforfood.com.
Share