Ginger Snaps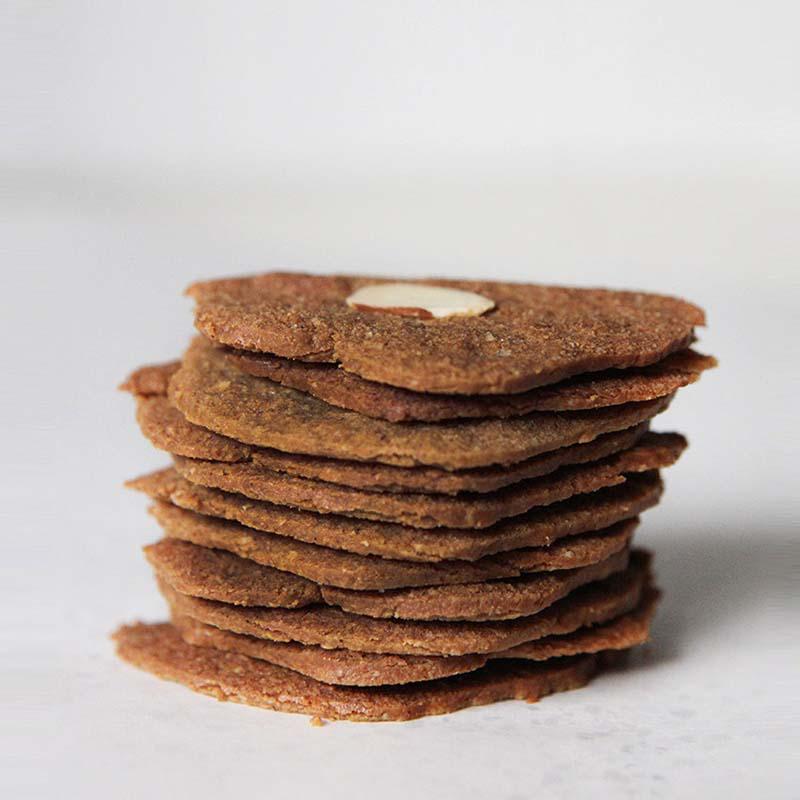 This is my paleo take on a traditional Danish Christmas cookie: Brunkager (ginger snaps). They have four different spices in them making them very fragrant and after lots of trial and error, I succeeded in getting them to come out with just the right amount of crispiness and sweetness.
To get these cookies crisp, I ditched the usual paleo go-to, dates, and opted instead for coconut sugar because of its crystallizing nature. Coconut sugar has a lower glycemic index than regular sugar, which is good news to me!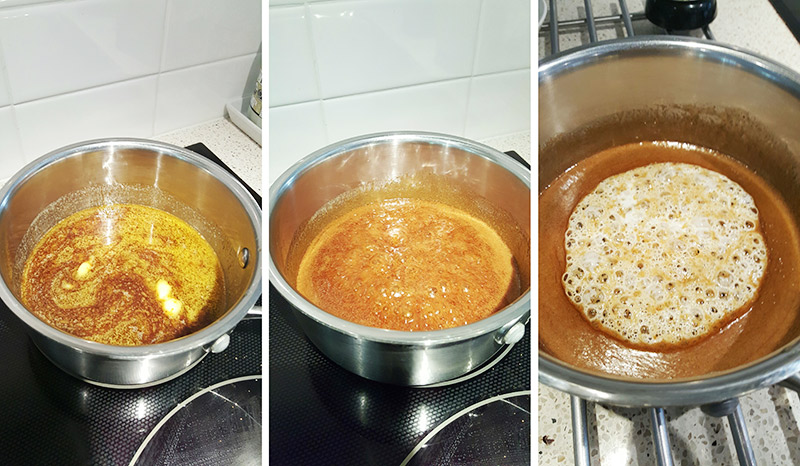 Above: I first heated the maple syrup with the butter and coconut sugar and brought it to a boil. Then I removed it from the heat and added the baking soda - water mixture. In health food stores, you can get baking soda without aluminum, which I recommend using over the regular orange box from the market.

Recipe
Yields about 100 cookies depending on the log size and how thinly you slice the cookies
5 tbsp grass-fed butter
1/3 cup maple syrup
1/2 cup coconut sugar
1/2 tsp baking soda + 1 tsp water, mix before adding.

2 1/2 cups of almond flour
1/2 tsp cinnamon
1 tsp ginger
1/2 tsp cloves
1/2 tsp cardamom

Mix butter, syrup and sugar in a pot and bring to a boil. Remove from heat.

Mix baking soda and water and mix it in.
In a separate bowl, mix almond flour and spices.
After the sugar and butter mixture has cooled down, mix it with the flour and spices.
Knead dough and roll into a log. Refrigerate until the next day.
Slice thin cookies from the log and put onto a baking sheet. Optional: place a slice of almond or two onto each cookie and press it down lightly.
Bake towards the top of the oven for 7-10 minutes at 380-400F. The baking time will depend on the thickness of your cookies and the heat of your oven. The cookies are done when they start turning darker brown. (See picture toward the bottom of post for best results)

Transfer the cookies to a cooling rack. They will be soft and pliable when you transfer them, but then they will turn crispy once the coconut sugar in them cools down. No matter, they taste best when absolutely cooled off.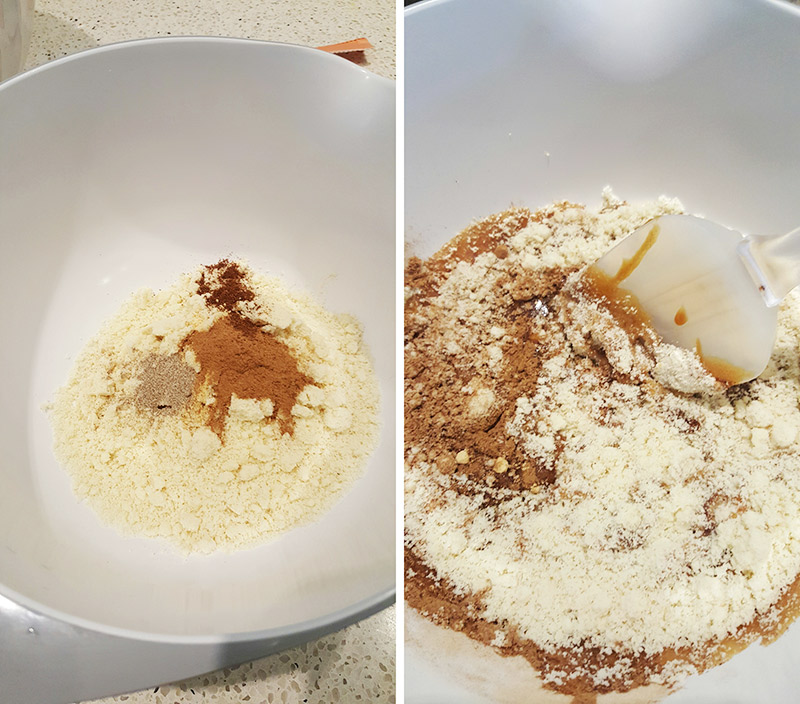 Almond flour and spices mixed. The cooled syrup mixture is added.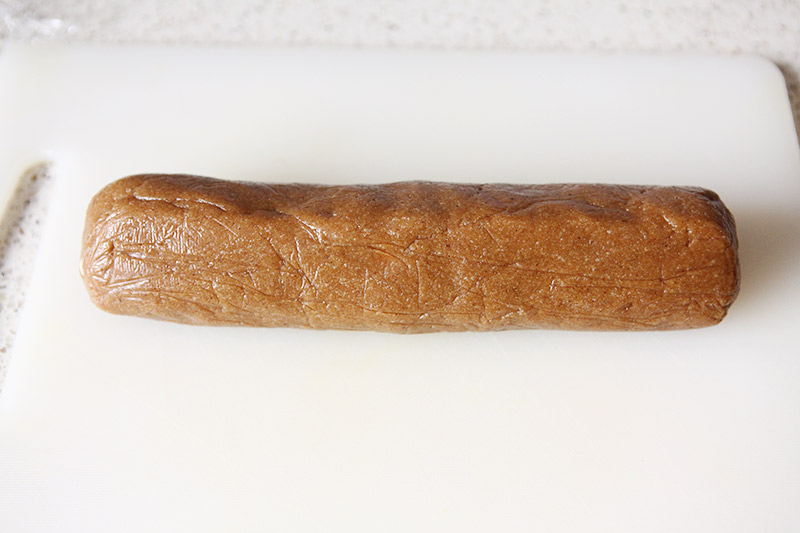 The dough is kneaded and formed into a log, then refrigerated until the next day.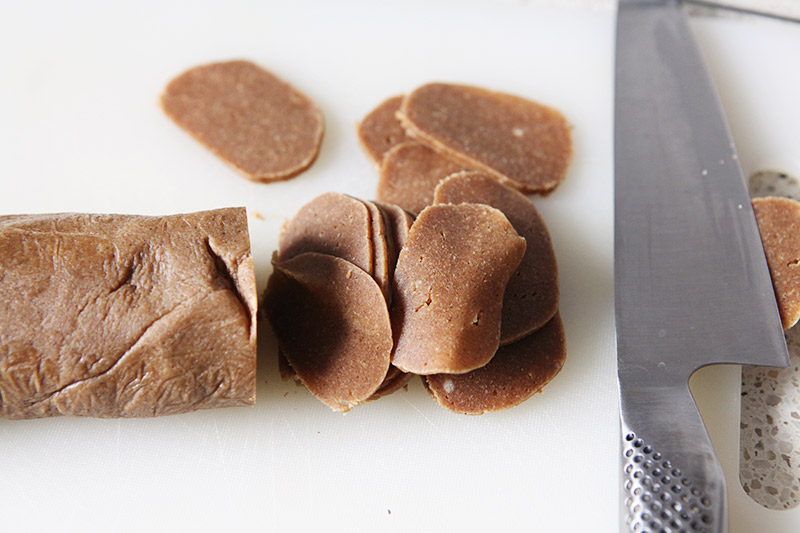 To get the crispiest cookie, the log needs to be sliced very thinly.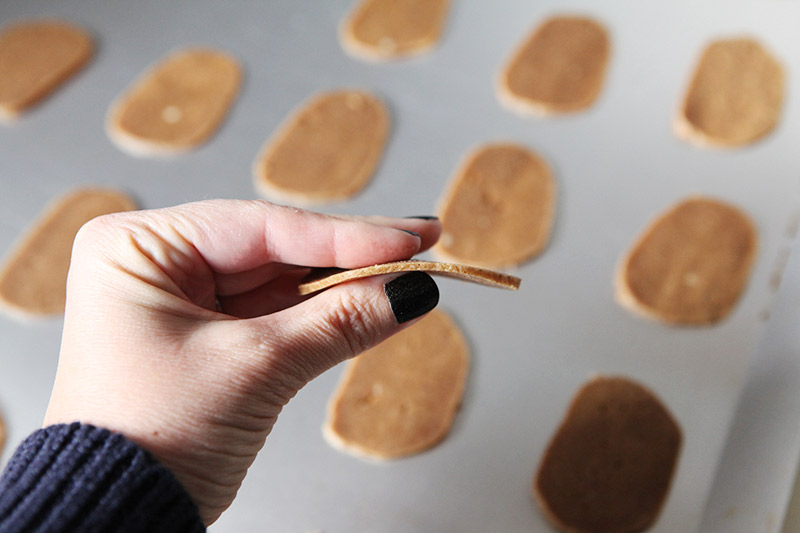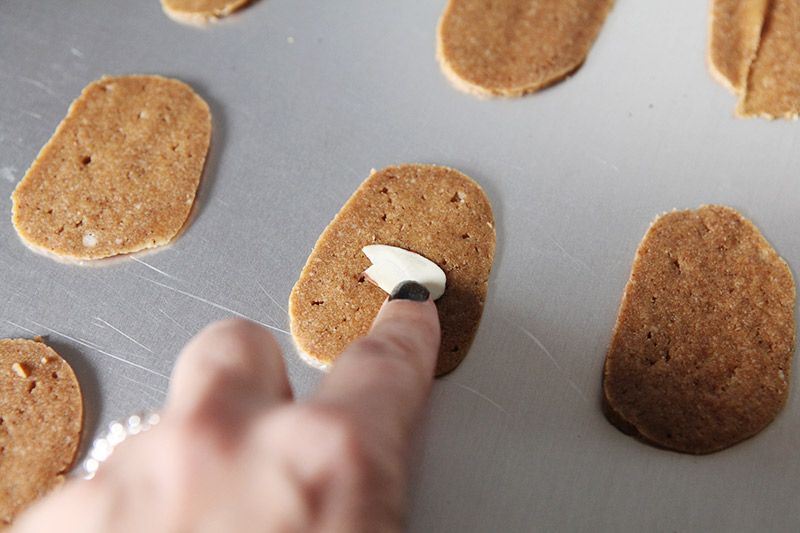 Decorate with a slice of almond. In the original recipe, which is filled with a lot more flour and butter, the dough becomes so dense that the almonds can simply be added to the dough and still be sliced easily, but I found that with this dough which is not nearly as dense, it was easier cutting it without adding the almonds, so instead I just added them after I sliced them.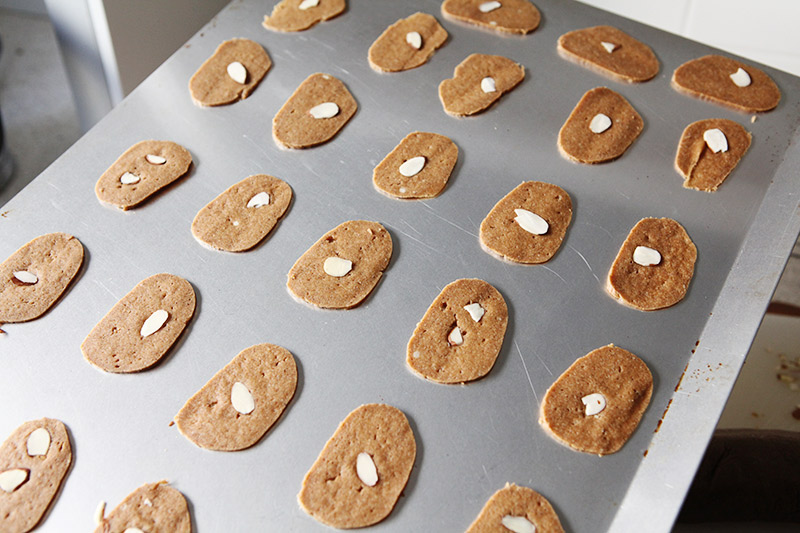 Above they are ready to into the oven, below they just came out.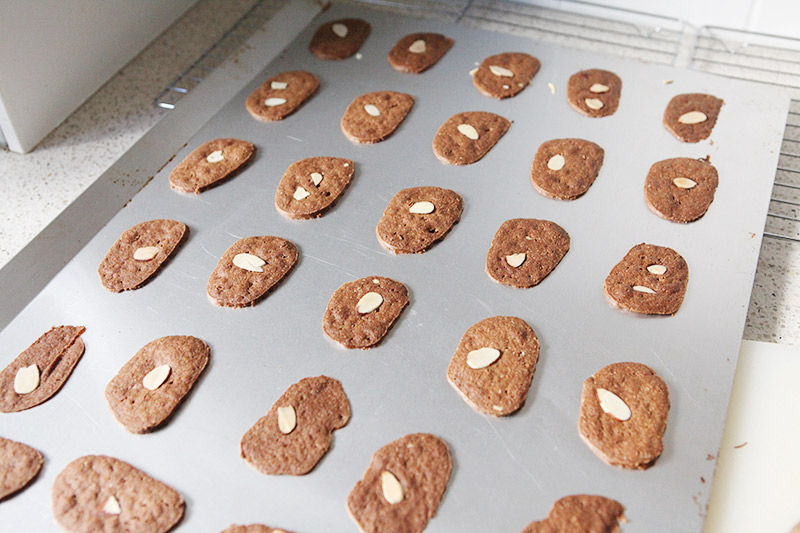 Here you can see all the little air pockets on the underside of the cookie, a tell tale sign of their crispiness!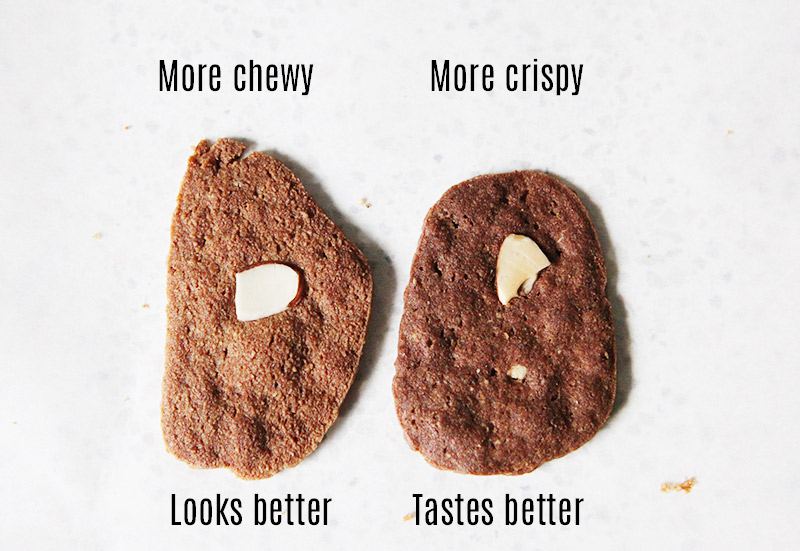 I thought the cookies looked very dark brown, so I tried removing a batch from the oven a bit earlier. They still taste wonderful at the slightly less baked stage, but the crispiness does suffer. In my oven, the setting I used was 400F for 6 minutes for the crispiest cookie on the right. The one on the left was removed maybe a half a minute earlier. The coconut sugar is the primary reason why these cookies turn out darker than the originals.
I took some to park group with me for some feedback. They were a big hit. Top remarks were:
"They are so crispy"
"The spiciness is just right"
"I can't even tell that these were made with almond flour"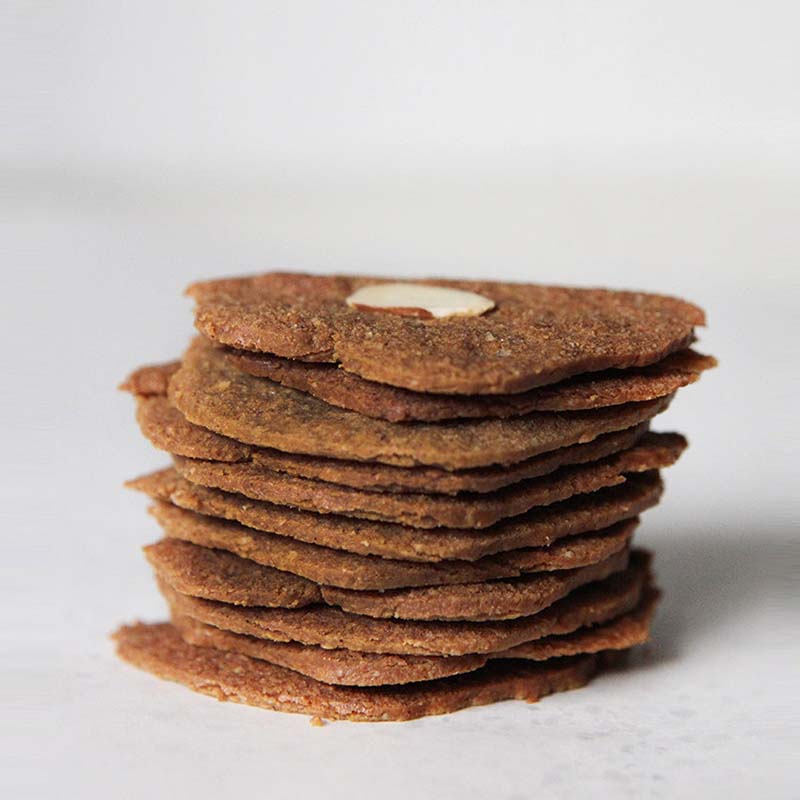 Some blog posts contain affiliate links to products I use.
More information
This article: Ginger Snaps first appeared on http://ahomeforfood.com.
Share